3 Years as a Yoga Teacher
Specialises in Body Restoration, Stress Reduction & Overall Vitality
Teaches Yoga Classes
Teaches Yoga at Home
My passion for yoga began in 2011. Prior to this, whilst working full time as a nurse, I enjoyed attending various yoga classes as a way of looking after myself physically. I was also particularly interested in mindfulness practices as a way of balancing the every day work stresses that came hand in hand with the job. Later on, in 2011, I came across the style of Ashtanga yoga and this is where my real passion began. During this time I came to realise that yoga is not just a form of exercise, or about learning to stand on your head or touch your toes! I soon discovered that there were styles of yoga that not only challenged me physically, but also provided me with that mental stillness the same way my mindfulness practices did.
In my yoga classes you can expect to not only get a great physical workout, but feel relaxed and revitalised afterwards too!
Over the following years I experimented with various different styles of yoga and practiced under many different teachers. As time went on I began to better understand the connection between mind and body, and I was  becoming increasingly aware of the proven benefits of yoga on wellbeing and it's abilty to reduce stress levels. My career as a nurse had been fuelled by a desire to help people, and I now felt with yoga there was another opportunity to do this, but in a completely diferent way. I wanted to share with people the benefits I had experienced from practicing yoga and help others to feel better in themselves both physically and mentally. With that motivation, I undertook my yoga teacher training and started teaching in 2016, working with children, families and adults.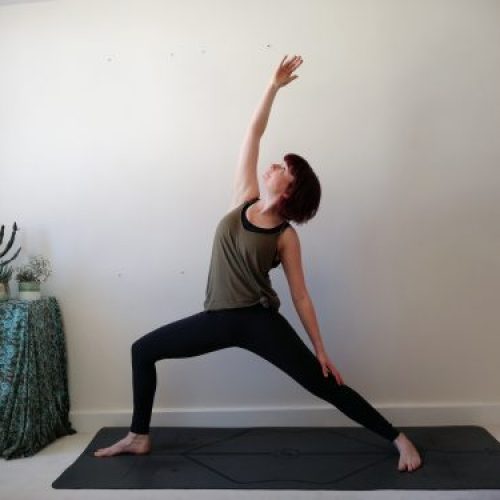 My teaching draws from the various different styles of yoga I have practiced over the years. Primarily, the classes I offer combine teachings from the Hatha and Vinyasa Flow traditions, and focus strongly on breath awareness in synchronisation to movement. A typical class involves flowing dynamically through a series of poses which strengthen and stretch the body, as well as calm the mind. This challenging and focused way of moving also helps to improve balance and coordination.
Each class is adapted to suit the needs of the individual, and I encourage the development of your practice in a way that works for you – both physically and mentally. Classes can be dynamic and challenging, or they can take a more gentle and slow approach if needed. Whichever way we are practicing, I encourage you to move with awareness and to connect with your present moment experience. In doing so you you will not only get a great physical workout, but you will also finish class feeling relaxed and revitalised too!
For me, working for Free Spirit Fitness is a such a rewarding and positive way of delivering yoga to people.  The fact that we are working in such a personalised way means we can really help people get the most out of their sessions, as  well as monitor progress and achieve goals with a holistic and person-centered approach.

Feel better, move better, live better.
If you are looking to take control of your health, and lose weight, build strength or transform your fitness, then book in for a FREE consultation today!