3 Years as a Nutritional Coach
Specialising in Behavioural Change, Habit Formation & Personal Progression
Crossfit Enthusiast
I am fascinated by the power of food! Nutrition is one of those never-ending learning adventures, and as a keen problem-solver, I am always digging deep into the science behind food and its impact on the body.
Helping people to eat better and improve their mental and physical health is something I am very passionate about – focusing on progress, rather than perfection, in order to develop healthier relationships with food.
This is what lead me to become a qualified Level 3 Nutrition Coach (accredited by the Association of Nutrition). I am also currently in training with the highly respected Precision Nutrition as a certified Sports Nutrition Coach. As well as working with Free Spirit Fitness, I also work as a Nutrition Coach at CrossFit Leamington Spa, helping athletes with their weight-loss, muscle-gain and recovery.
I love to cook, and I am a firm believer that healthy food doesn't have to be boring or unsatisfying
I love keeping active and challenging my body, and as a keen runner and self-confessed CrossFit addict, good nutrition plays a huge part in fuelling my workouts, enhancing recovery and avoiding exhaustion. It's true that you can't out-train a bad diet, and a good foundation of nutrition will always aid you in achieving your goals.
I love to cook and I am a firm believer that healthy food doesn't have to be boring or unsatisfying. I enjoy the excitement and satisfaction that comes from turning simple, raw ingredients into meals that are wholesome, nutritious but more importantly…delicious! When you respect yourself and your body, you feed it what it needs to thrive, not just survive.
I'm excited to be working with Free Spirit Fitness and helping people to look and feel healthier, stronger and fitter! If you would like to learn more about how I can help you, just click here. Or for some healthy food inspiration please visit my personal food blog 🙂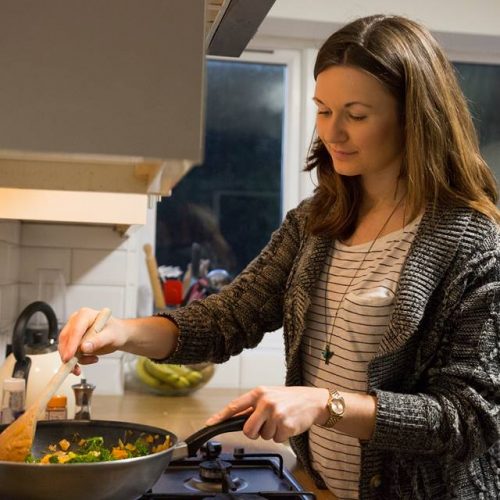 Feel better, look better, live better.
If you are looking to take control of your nutrition – whether it be losing weight, building strength or transforming your health, then book in for a consultation today!